Royal Games – Entertainment and gambling online/offline system
We proudly present to you Royal Games – an entertainment and gambling online/offline system.
Royal Games is an entertainment and gambling system designed to provide entertainment via terminals. It includes a software package with a shell containing a set of entertaining games. Royal Games boasts a comprehensive range of functions, player loyalty system and JackPot system as well.
System operation
System features
System requirements

Royal Games online/offline system consists of several sections of electronic equipment connected in tiers. It is a three-tiered client-and-server system, which includes a player server, a remote statistics server, cashier's terminals and a player client with two displays.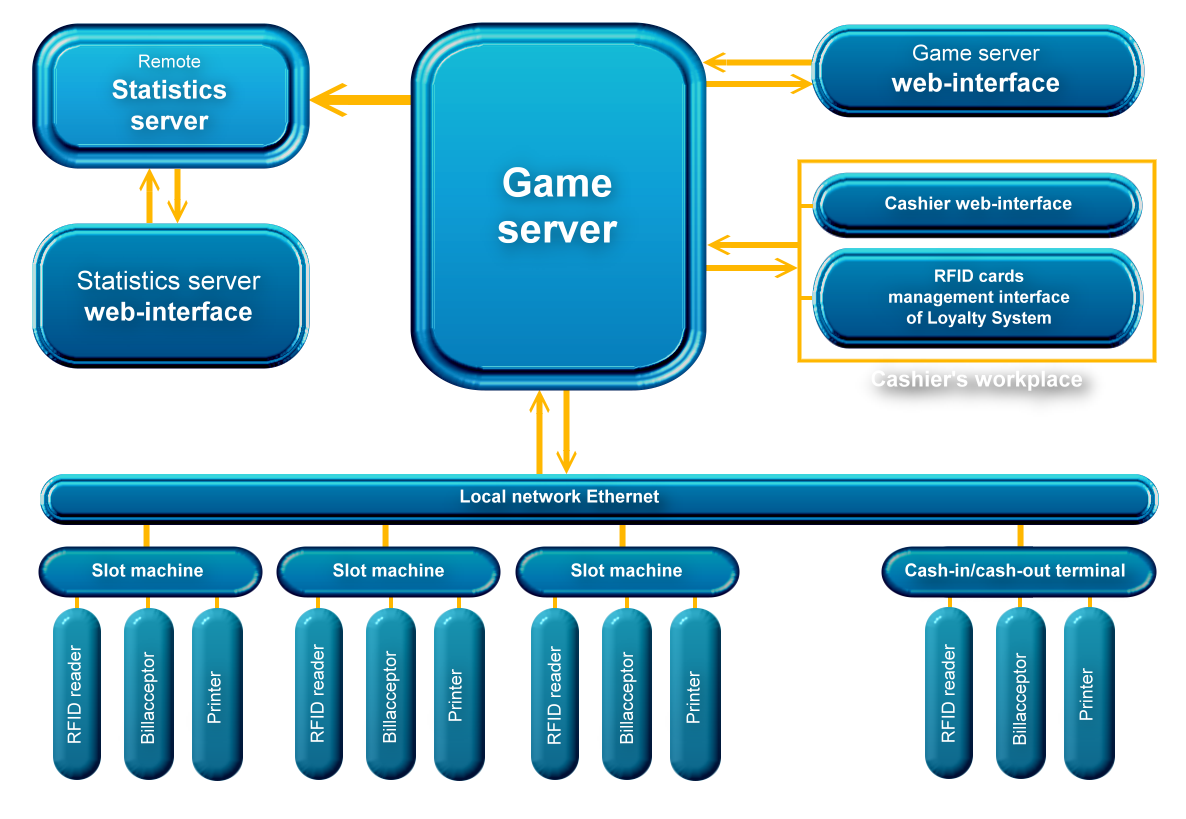 Terminals are connected to a remote game server, which can also be installed in your gamling hall and connected via local network.
Web-interface with several user roles – Owner, Director, Cashier - each with its own authority over game server management.
It keeps a detailed record of all your game servers and gambling halls and can save it on a separate statistics server accessible via special web-interface.
Unique and colourful design of player client.
The symbol combinations in games can be displayed as reels or as lottery balls (your choice).
Different design approaches to game graphics.
Option 1
| | |
| --- | --- |
| | |
| as reels | as lottery balls |
Option 2
| | |
| --- | --- |
| | |
| as reels | as lottery balls |
Option 3
| | |
| --- | --- |
| | |
| as reels | as lottery balls |
It has an activated JackPot module providing for up to 7 jackpot types depending on the amount of the bet. JackPot module can be activated for all kinds of bets, or for a certain range of bet amounts, or deactivated completely – all these settings are applied to all games on all terminals. Also, you can choose extra settings for jackpot drawings (e.g. number of players in the hall who can draw the jackpot), customize the prize range for jackpot drawings, etc. Thus, the system provides you with completely customizable JackPot.
Player client uses two displays: the main one shows the game, the extra one tracks the Jackpot collection.
It boasts a unique system for stimulating 'loyal' players. This option can be activated on any terminal for any game or game set. When activated for the given game, the loyalty system gives the player stimulating virtual 'prize' points if the combination is non-winning. The number of points depends on the bet amount, and further on these 'prize' points can be used to continue playing if the player has run out of regular points (credits). This system has stand-alone application to be used with RFID-cards.
You can load various game sets into the system.
The hardware and additional software requirements are given below.
Processor

RAM

Hard Disk

Video Card

Peripherals

Additional Software

1. Game server requirements

no lower
Intel Core i5 3 ÃÃö

no lower
8 Ãá

RAID array
no lowerRAID 1, size not less250 Ãá

-

USB port

LAN not less 100 Mbit

OS Windows Server 2008 R2 Web

2. Cash-in/cash-out terminal requirements

no lower
Intel Celeron G 540

no lower
4 Ãá

not less250 Ãá

no lower
Nvidia GeForce 210

One Com port
4 (four) USB ports
Touch-panel eGalaxy touch
Ptinter CustomVKP80II
Billacceptor, with ID003 protocol (via Com port)
Cardreader SL500 (Stronglink-RFID company).
RFID card of Milfare 1K and Milfare 4K standarts

-

3. Slot machine requirements

no lower
Intel Celeron G 540

no lower
4 Ãá

not less250 Ãá

no lower
Nvidia GeForce 210

One Com port

4 (four) USB ports

Touch-panel eGalaxy touch

Ptinter CustomVKP80II

Billacceptor, with ID003 protocol (via Com port)

Cardreader SL500 (Stronglink-RFID company).

RFID card of Milfare 1K and Milfare 4K standarts

-

4. Cashier's workplace equipment requirements

no lower
Intel Celeron G 540

no lower
4 Ãá

not less250 Ãá

-

2 (two) USB ports

Cardreader SL500 (Stronglink-RFID company).

RFID card of Milfare 1K and Milfare 4K standarts

OS Windows 7
Prices for Gambling systems (including Royal Games system)>>